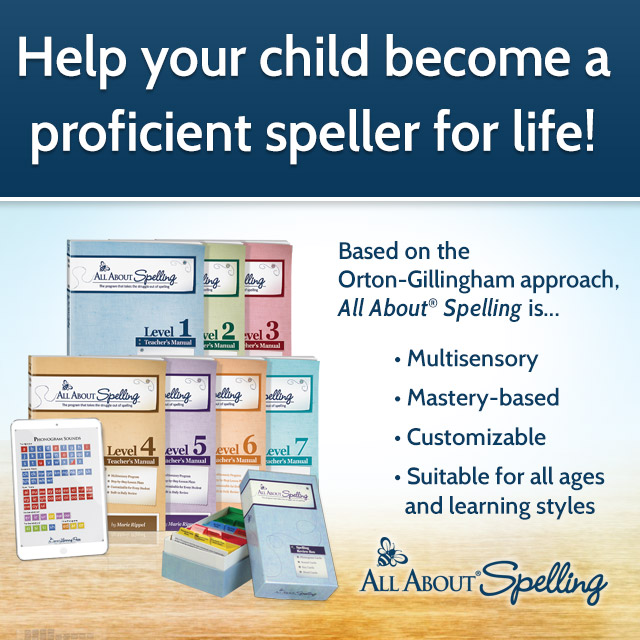 All About Learning Press
has been a part of our homeschool for the past 6 years. My 12 year old, Malachi, started with Level 1 at age 6 in the 1st grade, and has completed all the books from 1 to 6, doing one level per school year.
I have love teaching this program
and he has loved learning with it.
We finished
Level 6
this spring, but he's such a great speller now that I debated whether or not we should do
All About Spelling Level 7
. The last few levels have been easy for him, so I thought that All About Spelling had worked itself out of a job. But, then I took a closer look at Level 7, and
I
knew I wanted him to finish strong
.
I am an affiliate for All About Learning Press.
What's Taught in Level 7?
Your student will learn 275 new words over the course of 30 lessons, plus hundreds of additional practice words. (We use the additional words much like the Word Banks or for additional practice as needed. I love that these are included!).
How I set up All About Spelling 7
I put the student packet in a three-ring binder. This holds everything, including the word cards which are left in the sheets and placed in plastic page protectors. (I use the cards more if they are in the binder. If they are perforated and stacked into the spelling box, they never stay in order, and I have a hard time using them for the next child.)
Since the Word Cards are in plastic page protectors, I can put a transparent dot over any Word Cards he misses, so I know I need to review it.
What I have in the binder:
Progress Chart and anchor stickers
Word Banks for Level 7
Syllable Division Rules
Spelling Strategies
Practice Sheets for Steps 12 through 14
Homophones List
Word Trees for Latin Roots
Word Cards
Certificate of Achievement
Other components are of course the tiles. In Level 7, we have Greek word parts, Latin roots, more prefixes, and more suffixes.
The Greek and Latin tiles have the English meaning on the back. I think this is great! In fact, I would love to see that the back of the prefixes and suffixes had meanings too.
A Closer Look at Level 7
Step 1 begins as all other levels by:
Warming Up with a review of Phonogram Cards 1-72
letter tiles augh, gu, and mb
Sound Cards 1-90
Key Cards 1-25
Syllable Division Rules and Syllable Types
Suffix Rules
Spelling Strategies
Dictation
Each lesson thereafter includes:
Review
New Teaching/Spelling Strategy Practice
Spell on Paper
Homophones Pairs
Dictation
Writing Station
Additional Words
In Step 2, we assembled the Writing Station by cutting out the "Story Starter Cards" and placing them in the colored pocket cards taped to the Writing Station.
Malachi likes doing the Writing Station. He picks one slip from each pocket for a creative writing prompt.
He enjoys the silly prompts, such as,
"Describe the goals of a tall, dark, circus performer who has nineteen pet cats."
He likes the creative writing aspect too.
He doesn't like the dictation as much, so I usually only have him do 2 or 3.
Here's where I confess that I sometimes double up and do two lessons. When I do this, I skip the dictation and only do one writing station. This level so far is easy for him, but I'm still going to finish Level 7.
Steps 2 through 16 teach letter combinations and spelling patterns, such as sc, zh, com, zh, du, /y/ spelled I and /m/ spelled mn, when to drop the E before a consonant suffix, when to keep the E before a vowel suffix, /sh/ spelled ci, e-consonant-e, words ending in ance, words ending in ence, words ending in ize, and /sh/ spelled ss or ssi.
Steps 17 through 20 teaches Latin Roots using Word Trees.
The Word Tree helps your student create words using the latin root, prefixes, and suffixes. On the front of the tile is the root. Flip the tile over to learn the root meaning. The objective is to see how many words you can create and write on the branches of the tree.
Steps 21 through 23 teaches Greek word parts. Over these three lessons, 18 Greek word parts are taught.
The Appendix has an additional 29 Latin and Greek roots for your student to learn. If you have ever been overwhelmed with teaching Latin and Greek roots, this is a great place to start!
In Steps 24 through 29, common French, Spanish, and Italian loan words, spelling patterns, and endings are taught.
The final lesson in your All About Spelling journey includes A Plan for Lifetime Learning that includes a formula for future spelling success.
What is the age/grade range?
Since levels are not grade levels, Level 7 will take you through high school level spelling and includes 9th-12th grade level words as well as strategies to spell any word.
How did this benefit my homeschool?
Word analysis and spelling rules and strategies teach students HOW to spell. These tools can be used with ANY word. My students are equipped to be efficient and excellent spellers.
Vocabulary is naturally being learned through spelling. That's a win-win!
Malachi is a confident speller. His confidence grew every year by leaps and bounds. He doesn't think he needs spelling anymore, but we are in the homestretch, so we are going to finish strong!
What's next?
After we finish Level 7, we will be on the look out for new and unfamiliar words in print all around us. Having been equipped with all the right tips and tools, like Word Analysis and Spelling Strategies, we will slay those hard to spell words. Read
What Happens after All About Spelling
to learn more.
Would I recommend it?
Absolutely! I recommend a lot of programs, but I only highly recommend a select few that have truly changed my homeschool for the better. All About Spelling is one of those programs that has made a significant impact on our homeschool.
I've mentioned before that All About Learning programs can be teacher intensive, but the later volumes take less time and are easier to teach. I promise! We can do one lesson in one 10 minute sitting, so I don't take a whole week to do a lesson. I do the lesson, read the word bank, review the word cards, and take a spelling test. I sometimes throw in those extra words I mentioned above during the test to make sure he understood the spelling pattern taught. It's super easy!
Tip:
I haven't used the tiles for several levels. My son does not need them anymore. I teach right from the manual, covering up the answers as I go. This makes All About Spelling super easy to do. Of course, if my son needed the hands on aspect of the tiles, they are there! The tiles are a critical component of the program, but as your child gets older, he or she may not need them anymore.
With only 24 lessons in the manual, we can take our time and spread it out over 24 weeks with plenty of room for breaks when other subjects are more pressing, but it took us 3 months to do level 6. The amount of time spent in review gets shorter and shorter the closer you get to the end. All that hard work in Levels 1-3 starts to pay off after Level 4! So if you have finished Level 3 or 4 and are wondering if you should move on, I vote yes!
We will start a new journey with All About Spelling this year when my youngest starts Level 1. He's actually been begging me to start! Now that he has finished All About Reading Level 1, he's feeling pretty smart. My 5th grader will do Level 5 this year, and she's feeling more confident than she ever has.
Is there anything I don't like about teaching with All About Spelling?
All About Spelling can feel "teacher intensive." In the beginning it was more work than I wanted to do, and our lessons lasted longer than liked, so I didn't pull it out daily. I usually only did 2 reading lessons and 1 spelling lesson a week. When I felt like "couch schooling," I used a moveable alphabet app and the Phonogram Sounds App on my phone, and found other creative ways to make it work without using the tiles because I believe it is a valuable and worthwhile program. But, that's the only thing I can think of that's not to like - I can't just hand my child a workbook. But, that's just another reason
why I feel like a real teacher with this program
- I'm actually teaching! Over time, it has become our easiest subject, so I'm glad I stuck it out.
Rest assured, it gets easier as you go!
All in all, All About Spelling has really made a difference for me and my children.
I am a better teacher with this program. I am applying the rule, tips, and strategies in our everyday life. I love how smart I am!
My children are better spellers. I still have to remind them of concepts, but less and less, and I'm so happy to be in the homestretch with the last level in All About Spelling.

Connect with All About Learning Press on:
Facebook:
@allaboutlearningpress
Instagram:
allaboutlearning
Pinterest:
@learningpress
Disclaimer: I received a free copy of this product from All About Learning Press in exchange for my honest review. I was not required to write a positive review nor was I compensated in any other way. All opinions I have expressed are my own or those of my family. I am disclosing this in accordance with the FTC Regulations.